A white dove release is one of the most reasonably priced services for your wedding, and yet it is the most dramatic and unusual of them all.
The dove symbolizes Love, Peace, Fidelity, Prosperity, and Good Will. Our White Dove Release's are visually symbolic and a breathtaking touch for any size wedding, from the most intimate ceremony at home to the grandest fairytale setting.
All of us here at Timber Lofts of Ocala strongly believe that you should never settle for anything less than the very best. It is for this reason that we will be happy to work with you in sculpting a dove release that is perfect for you.
---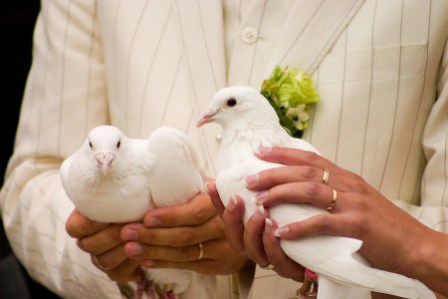 The Bridal Pair (2 White Doves): Two white doves are released by the bride and groom from a beautiful white wicker, heart-shaped basket or by hand. As the birds take flight, this symbolizes the beginning of the new couple's life together.
Family Package (6 White Doves): Once the Bridal Pair has been released, 4 additional white doves are released by the parents of the bride and groom. This small flock and the pair join together in the sky, showing a blending of the families.
Spectacular Celebration I (12 White Doves): At that precious moment, 6 additional white doves are released by the groomsmen and the maids of honor.
Spectacular Celebration II (20 White Doves): Once the Bridal Pair are released, an additional 18 birds are released from 2 large white baskets. This is an extraordinary photographic moment, and it is quite moving to witness.
---
The releasing of white doves at funerals and memorials is quickly becoming a popular way of adding that special touch to your loved ones memorial or funeral service.
In addition to flowers, a White Dove release for a funeral or memorial is one of the most loving and inspirational gifts to give to a loved one. The releasing of a white dove helps to begin the grieving process by opening the doors to "letting go" and is sure to live on in the memories of all attending the service.
Our White Dove Release's for funerals or memorial services are symbolic of eternal peace and can comfort those who have lost a loved one. Any of our white dove release packages can create a beautiful, healing moment in time, providing friends and family with a special way to express their final goodbyes.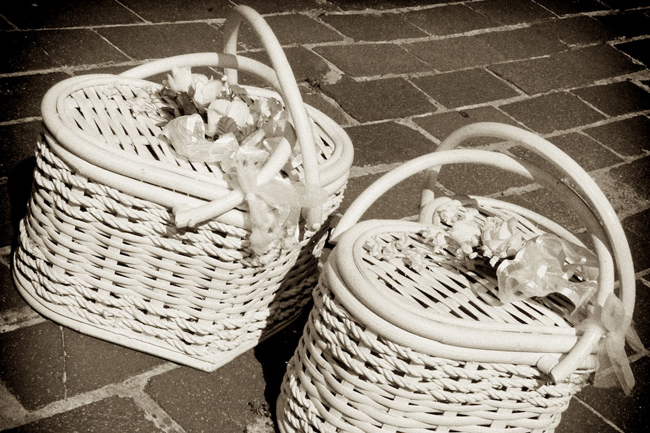 Spirit Release (1 Dove): At the conclusion of the ceremony, a single white dove is released by a relative or friend, either by hand or from a small basket. Symbolic of the loved one, the dove may circle, and will fly off on its 'spiritual journey home.' Those watching are able to emotionally 'release' their loved one, as the white dove flies off into the horizon.
The Trinity Release (3 Doves + 1 Spirit Dove): Saying goodbye to a loved one is never easy. A beautiful tribute is to release 3 doves representing The Father, The Son and The Holy Spirit. A moment later, a solitary white dove is released which ascends to join the others circling over head. This is a visual representation of the spirit of the departed one ascending to heaven and being guided home.
The Angelic Escort Home (10 Doves ): After the Trinity Release, 6 additional doves, are released from decorated baskets. Theses "Angels" ascend into the sky and all together they make the spiritual flight home.
---
We pride ourselves by offering our services to all communities and lifestyles from North Georgia to South Florida.
---
Release Policy
The Ceremonial Doves we utilize for services are living animals, because the care and safety of the birds are our top priority, we have the following policies that we feel will keep our team out of harm's way after your release. As with all animals we cannot guarantee that the birds will perform exactly as expected though a handler will always be present to assist. We cannot accept any responsibility for any droppings that may occur; these are unavoidable though we are vigilant of this.
We will ONLY release well trained birds outdoors during daylight hours at distances not to exceed 610 miles.

We will NOT ship any birds to you for a "self-release".

We will arrive at the release site NO LATTER then 30 minutes prior to the time that the event is to begin to set up and to give instructions to those wanting a hand releasing if appropriate.

We WILL be dressed in appropriate clothing for the event.

ALL of our birds are permanently identified with bands issued by, and registered to us by the American Racing Pigeon Union (AU).

Our birds may be released any day of the week from sunrise to late afternoon at times that allow them to safely return home.
Certain weather conditions make it unsafe to release birds. These conditions may include, but are not limited to, rain, thunderstorms, strong winds and fog. During such conditions, the birds WILL NOT be released.